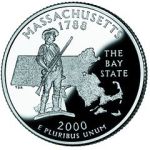 Revolutionary War Patriots of Susan Hervey Wales
Job Lane, Jr. (1718-1796), Susan's fourth great grandfather, was one of the Minutemen who traveled from Bedford to Concord on April 19, 1775 to fight the British troups.  He was wounded by a musket ball during the fight, but lived another 21 years.
Other ancestors will be added later.