Church of Our Saviour
Brookline, Massachusetts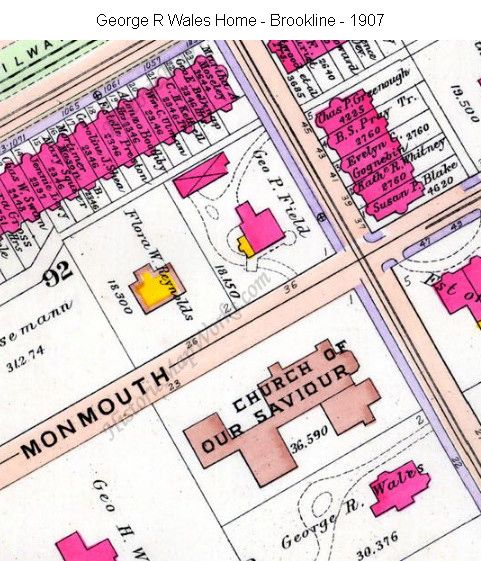 Map of Neighborhood  – 1907
Notice location of George R Wales home just below the church.
The property to across the street from the church, owned by George P Fields was the former home of John and Susan Wales.
Church of Our Saviour
Brookline, Massachusetts
Minutes of the meeting of the Wardens' Vestry
 November 18th, 1900
Special meeting
At a meeting of the Vestry, held at the close of the service on the morning of Sunday 18th Nov., 1900, the following resolutions were passed.  There were present at the meeting the wardens and Messrs  Little and Parker.  (signed)  Geo. S. Parker,  Clerk pro tem.
Whereas: it has pleased an all-wise Providence to remove from are midst our friend and associate
John Wales
 It is resolved: that in the death of Mr. Wales, the Church of Our Saviour has sustained a great loss. –
He was for 16 years a member of our Vestry, and for seven consecutive years Treasurer of the Corporation.
He was always interested in church matters and his advice and counsel have been constantly of great value to us during his long term of service.
To him we are indebted for the beautiful window which he had but recently placed as a thank offering, on the south side of the church.
Resolved: that we tender to his bereaved family are heartfelt sympathy in this the great affliction.
Resolved: that a copy of these resolutions be sent to the family, that they be spread up on the Records and a copy sent to the Brookline Chronicle.
Longwood 18th November 1900.